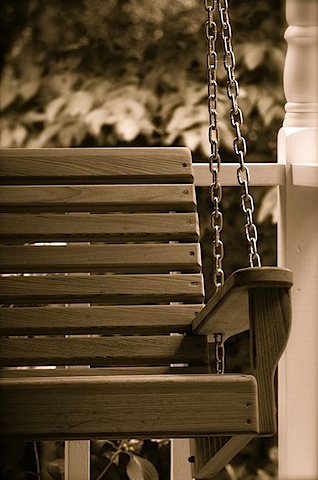 the blood still begs direction home…  
About a month from now we, the prodigals, will journey back to the place of our fathers and mothers, to the land where our wanderings began – Arkansas. I believe even now, weeks early, our family looks west each morning, squinting into the horizon, pleading with the Grace that keeps this world please bring them safely in, one more time. A verse long hidden in my heart promises a crown laid up for those who eagerly await the appearing…there are one-of-these-days crowns of gold, and there are here-and-now crowns of gray, just as righteous.
Our time there is scheduled to be about a week of what Mary Chapin Carpenter calls the jubilee – beholding faces we've missed so, clutching bodies that have thickened since last time, tending newborns fresh from the dreams of our brothers and sisters. We'll swim and our arid pores will sigh, we'll sloth in porch swings and listen for cicadas, we'll tell the waitress at the catfish place I believe I'll have the all-you-can-eat platter. We will smile the smiles of unguarded radiance.
I will also stand off to the side, from time to time, with that lump behind my breastbone. The land of our beginning is older now, as are those who inhabit its days. Harrison/Kooser wrote
You step in the same river once only for an instant. Panhandle time with the bruised fingers of what might have been.  
I hear the pious speak of an undivided heart. I believe it the chatter of fools. I live out west, but I will always be from the south.
Subscribe to Blog via Email
Join 1,317 other subscribers