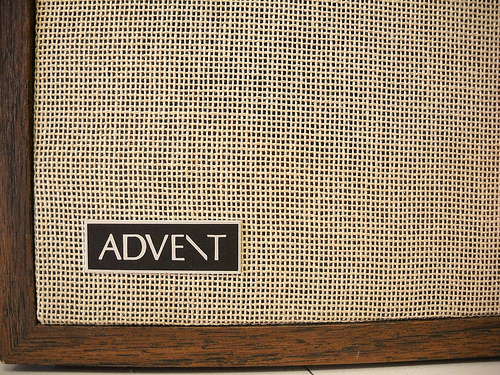 I grew up Baptist, Southern Baptist to be precise. We had a liturgy but we didn't call it liturgy, we called it a bulletin. And we didn't follow the church calendar, we followed the Southern Baptist calendar. I don't have any problem with that; it was as it was. The first time I remember hearing or seeing the word Advent was on a pair of stereo speakers a buddy of mine had, speakers I must confess I lusted after. They were beautiful cabinets with a linen-like grill and the sound they produced was simply divine, something those white earbuds will never approach. So Advent for me was synonymous with sound – you didn't have to do much other than sit back, close your eyes, and let Pat Benatar invade your dreams.
It was probably during seminary that I learned of Advent as a season, something that, alas, the Church had been celebrating for centuries without me. I read everything I could get my hands on about these days of waiting, even went so far as to purchase a small brass Advent wreath from a Cokesbury store. I wove this tradition into my first pastorate in The First Baptist Church of a small one-red-light Arkansas town. The saints there were gracious beyond measure, allowing candles in a sanctuary previously untouched by such brazen displays of color and light. Ever since those days I've continued to celebrate the Advent season.
But Advent's become sorta hip, at least it feels so. I mean, all the cool kids are doing it. This concerns me a little because I believe we fickle people of faith do have a tendency to grab an udder and milk the hell out of it. If we're not careful, the result, in my opinion, will become nothing less than what you'd expect: a dry cow, a cloud without rain…and if we're really unlucky, it'll become yet another litmus test to see if you're really spiritual as opposed to being lukewarm: What? You don't do Advent? Yeah, bah humbuggers to that reindeer game.
I'd like to suggest a way to keep Advent from drying out, an option with roots in my halcyon days of teenage audiophilia – Advent as sound. Sometimes our Advent celebrations get so quiet and reflective that, well, I just about fall asleep. How about pealing them with carols sung by a legion of voices? And by carols I don't mean more Feliz Navidad or Mariah Carey, but the heavy-laden theological lushness of songs like Lo, How A Rose E're Blooming or God Rest Ye Merry Gentlemen or What Child is This? Yes, I realize you're not supposed to sing carols until Christmas Eve or Day, but I believe God became small so we could break the rules, so there. Sure, we can still light candles with shushed, contemplative fingers, but what if the glow to rival that of the wreath was voices raised, singing the darkness away, sorta like those kindly folk from Whoville? It'd almost be like an extended Thanksgiving, not an entirely bad idea wouldn't you say? Would we, could we, be a gathering of saints singing whether the house was foreclosed or whether the company downsized or whether the doctor's report was two months at best or whether we had a new kid by Friday or not? What might it mean if we sang regardless of the 'whether'? If enough of our voices were raised the earth herself might listen and possibly join in, the very rocks crying out…what if we exercised just a tad of moderation to the reflection and focused just a tad more on projection, joining hands in the crest of newfallen snow while lifting our God-given voices? Man oh man, what a gift to give this weary world, the gift of sound – Advent, a thrill of hope…nations might even cease from their warring and sit back, close their eyes, and dream of a new and glorious morn.
Subscribe to Blog via Email