In what feels like a long time ago and a galaxy far away, I was a divinity student at Southwestern Baptist Theological Seminary. About halfway through my time there a rumor floated around: Calvin Miller will be teaching here in the fall. It was breath of fresh air for me. Man does not live by Greek and Hebrew and Systematic Theology and Ethics alone; I needed some poetry for god's sake. So along came Calvin, this Don Quixote character with beard and paintings and seersucker suits and all.
I took his Personal Evangelism class; that's where I first heard the phrase 'the rape of the Roman Road.' I'd long felt that way about the wham-bam-thank-you-Jesus approach of my Southern Baptist fellows but Calvin articulated it in such a way that I'll never forget. He also made mention in that class of his love for the music of Marty Robbins; this knit the man to my heart. However it was his Lewis/Tolkien class where he really shined. Sure, there was some hero worship going on, I won't deny that for a minute. But beyond that was the experience of Calvin as an intersector, a man that lived at the crossroads of his love of Jesus and his love of this old fallen world. One story, okay? We were reading The Hobbit for a classroom project and I was doing research on themes, metaphors, symbols and such. A few scholar-heads made much of the fact that Bilbo's sword was a phallic symbol. Now I was a pretty good Southern Baptist boy so even saying the word 'phallic' made me feel outlaw, like John-Cougar-Mellancamp. I made an appointment to sit with Calvin in his medievally appointed office and discuss this thread, convinced there were no doubt layers of meaning forged into that little man's sword.
Me: Dr. Miller, do you think Bilbo's sword is a phallic symbol?
Him: (fairly decent pause, scratch beard a tad) Well, it could be I guess. Ya know, I really think Bilbo's sword was a sword. (another fairly decent pause)
He smiled at me, asked me about my wife and told me about his wife then asked where I worked and was I happy at seminary and had I seen any good movies lately. We talked for awhile about such things, things that had much more to do with life than aspects of Tolkien minutiae. Its not that Calvin didn't love Tolkien, for he did, but I want to believe in that moment that Calvin loved me more, enough to in essence say don't be so serious, John, sometimes a sword is a sword.
I had the distinct privilege last year to work with Calvin on one of his final books – Letters to a Young Pastor. I was his editor, though I didn't edit too much for his manuscript was clean when it came in, it sounded like him – funny, old school, poetic. We had several phone conversations and he always concluded by telling me how very grateful he was for my advocacy of that book and its message. He'd say if I can ever do anything for you, John, anything, you just ask. He honored me by using a blog post of mine as an intro to one of the chapters in his book. I cannot tell you how much that meant to me, and still does.
And so I grieve the passing of my friend. He fought the windmills bravely in this life and is now living the impossible dream. I will look for him one of these days when I too lay down my sword and I will say thank you. For sometimes a sword is just a sword.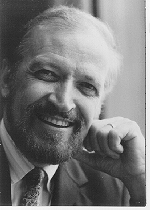 Subscribe to Blog via Email