Dear Lance,

I don't know if this will reach you, but I hope it will somehow. I wanted to let you know I've been praying for you lately; not anything elaborate or wordy, mainly just Lord, help Lance. I'm sure I don't know the half of what you're going through. Was it disappointing to hear all the revelations? Sure. I remember well the final stages of those tours…you flew like Icarus…man, it was something to behold. Are those memories tainted now? I guess, although its hard to say that with certainty…they were magic.
I'm writing to say I believe in you. I realize many do not right now and may not ever again. But I believe that anyone and any story can be redeemed, and that includes you and yours. In a religious word what I'm talking about is grace. That word gets bandied about or butchered and usually both, but here's the deal: regardless of all that's happened, and you've screwed some folks over pretty hard and maybe most of all yourself, God loves you. But as my friend Brennan Manning would attest – God even likes you. I point that out as that may be the more unbelievable thing because chances are quite good that you don't like yourself very much these days. Have you got a long road ahead that makes the Tour look like a circus-pony ride? Yes. Do you have amends to make? I think so and I think you do too. But I believe you can do it because I believe God believes you can do it, and that's saying something, Lance. God likes you.
I don't know if you know about the season of Lent. Its basically the days after Fat Tuesday that lead up to Easter, days to contemplate the grace that keeps this world from going completely nutters. The faithful routinely give up things for Lent, maybe the internet or coffee or watching Housewives of Beverly Hills, stuff like that. I hold all that loosely, and hadn't really decided to give up anything this year. But I was impressed today to put on something instead of give up something – I'm purchasing a LIVESTRONG bracelet and I'm going to wear it until Easter and maybe beyond. Am I wearing it for those precious people suffering with cancer? You bet. But you wanna know something, Lance? I'm also wearing it for you, as a symbol that I believe grace exists in this rank world and although we need it every day of our lives by god we need it most of all when we think we're too far gone to ever really come back. I'm wearing it because I believe you can make a comeback, that we all can, and that there's a day out there in the future waiting, possibly even sooner than you think, when the sun will shine on your face once again and not because you're on a podium near the Champs-Elysees but because you're alive and walking on the face of this earth as living proof that anyone and any story can be redeemed.
You've inspired many to reach deep and find something in themselves to keep going against the odds. Just know there are one or two scattered here and there who are praying for you to keep at it, odds and public opinion certainly be damned. You're in the first stages of learning the deepest reality of the logo. But you can do it.
Grace exists, Lance. Live strong.

John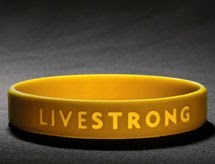 Subscribe to Blog via Email